How much wallpaper do I need?
Measuring your space carefully is the first step to your wallpaper home makeover! We've broken down some simple steps to ensure you've got the right number of wallpaper panels for your project – whether you're doing a simple accent wall or an entire room.
What you'll need
Measuring tape (definitely)
Step stool (probably)
HB pencil & notepad
A friend to help you measure
Step 1: Figure out your wall dimensions
Measure the height of the wall
Start by measuring the height of the wall. If you've got molding at the floor or ceiling, measure from where the molding starts up to the ceiling. It's important to note that ceilings and floors will almost never be perfectly parallel to each other – environmental and construction conditions mean there might be some variation.
Our wallpaper comes in a few different heights; always choose the one longer than you need to ensure you've got enough to account for pattern repeat and any height variation.
Measure the width of the wall
Now measure the width. If you're covering several walls, you'll want to add it all up to get the total overall width you'll need.
Tip: We recommend starting out with a simple, flat wall with no curves, recesses or cutouts for your first wallpaper project.
Step 2: What about doors and windows?
If the wall has a cutout (ie. door or window), best practice is just to measure the wall as though it's a solid wall. Doors and windows can be tricky, so this best practice ensures you've got lots of extra wallpaper in case you need it.
Step 3: Understand your wallpaper pattern
Let's look at the specifications for the wallpaper pattern you are looking to install. Some of our wallpapers are large-scale, meaning the full pattern spans 2 or 3 panels wide before repeating. Many of them have smaller-scale patterns that only take 1 panel to repeat and are more flexible to use.
Step 4: Map the wallpaper rolls to your room dimensions
Each wallpaper panel is 24.5″ wide. If you are installing multiple panels, you will align the next panel with an approximately 0.5″ overlap, like so: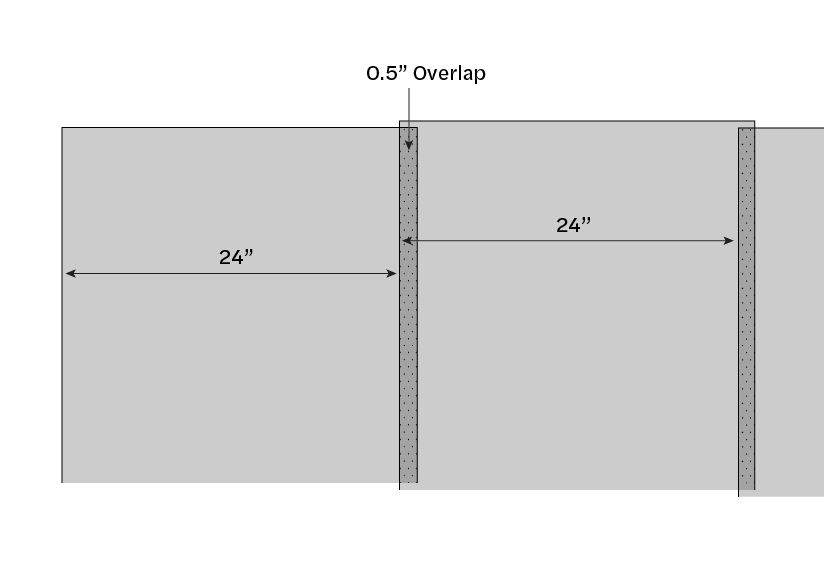 This means if you put up two panels with a 0.5″ overlap, the final width of the wallpapered area will be 47″.
Step 5: Add a little extra
It's always advisable to order a bit more than you need! For example:
Your wall is 96″ high and 60″ wide:
Order 108″ length and 3 panels (24″ wide, minus two 1″ overlaps, which will cover 70″)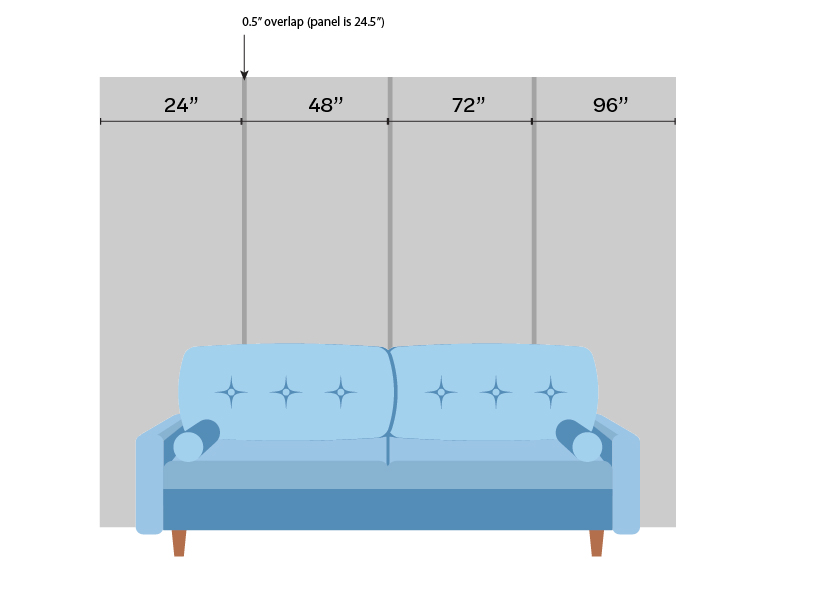 Don't forget:
We always recommend to order a swatch before you order your wallpaper! Photos, dimensions, and all the information that's available on our website can never replace actually seeing a swatch in real life. This way you can check the:
Size of the pattern
Quality of the wallpaper
Texture of the wallpaper
Colour and how it looks specifically in your space
Ordering swatches can prevent waste, save time, and ensure you're as happy as possible with your wallpaper order.